The Nitty Gritty Facts about Black Mold
4/9/2019 (Permalink)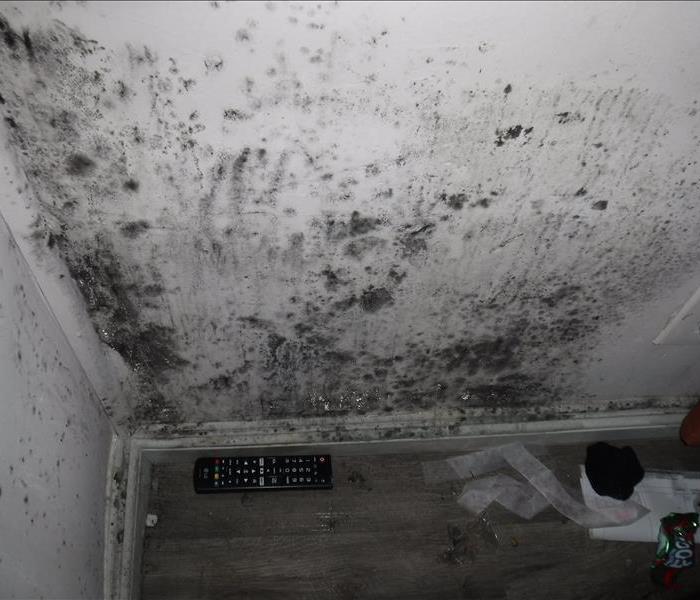 Mold is considered a toxigenic fungi, meaning they have potential to produce toxins. If you suspect mold of any kind, give us a call.
There are so many warnings (and many fears) about black mold. This alarming type, also referred to as "toxic mold," can cause trouble to both your building and health. The truth is, the words black and toxic are used interchangeably in most cases when it comes to it. Let's discuss the facts about what it is and the myths behind it.
Stachybot-What?
One fact to point out is that stachybotrys chartarum, the only name professionals call it by, really is quite fatal to people's health. It can produce allergens and irritants that are just down right bad for us.
How Can I Tell If It Is Black Mold?
There are many types of mold that can cause reactions. In fact, there are more than 100,000 different species of mold that can have black in color. This kind of mold has a greenish-black color and sometimes even have a greyish soot-like color. It is also known to be slimy or wet.
Some types of them can cause more harm than others, too. Give us a call immediately if you suspect there is any kind of mold in your home or business. Our team of mold remediators will inspect the affected area for you.
Is Toxic or Not?
It is true, black mold can be harmful but only if it is stimulated. Most molds are toxigenic, which means they can produce toxins. Therefore, it is important to remember not to touch or disturb mold. Let a professional take care of it for you.
If you think you may be experiencing black or any other kind of mold, please contact us at 909-399-9057.