Top 3 Common Mistakes About Mold
3/25/2019 (Permalink)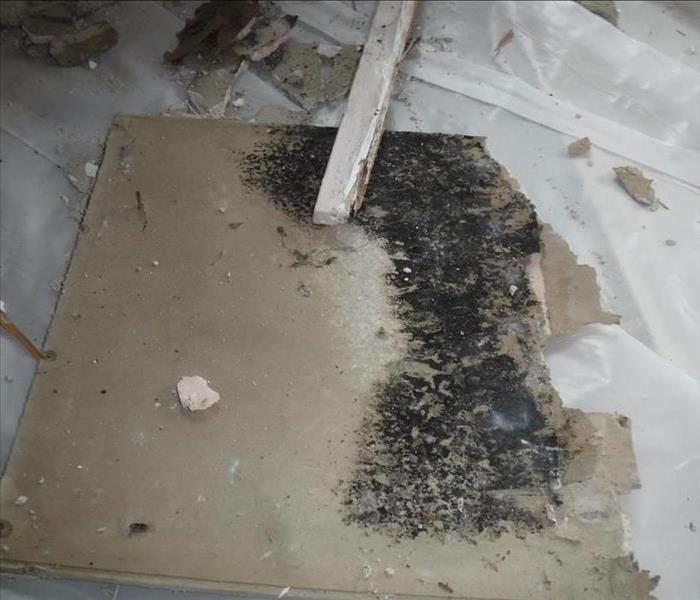 When you see mold in your home, the best thing to do is to not disturb it and call a professional restoration company.
Have you ever called "the experts" just to have each company give you different answers about mold? Today we're digging deep and answering the top 3 common mistakes and false claims customers hear all the time. We are setting the facts straight because it is important to know what to do in case you discover mold in your home or office. And trust us, we have heard them all!
Common mistake #1: Mold can be killed with bleach.
This is a big no-no. Although there are many great home remedies out there, you can not "kill" mold with bleach. In fact, you can do a lot more harm than good. When bleach is poured over mold, it disrupts the mold and activates tiny particles called mold spores. These mold spores are airborne and can be in very unhealthy if inhaled. According to OSHA, "the use of a biocide, such as chlorine bleach, is not recommended as a routine practice during mold remediation." The only way to reduce mold is to have restoration experts perform mold remediation.
Common mistake #2: Only black mold is dangerous
Even though black mold is very unhealthy, it is not the only mold that can raise health concerns. In fact, there are more than 100,000 species of mold spores known worldwide. Some of these species are not harmful at all, while others can be deadly. Who's to say which is which when you have mold growing in your family room or work space. Overall, all mold should be left undisturbed and remediated the moment it is discovered.
Common mistake #3: Your home or office will be "mold-free"
This is a big misconception about mold. The truth is microscopic mold spores exist everywhere naturally, including indoors and outdoors. Because of this, it is impossible to remove 100% of mold. Take into consideration that these mold spores that are floating in the air can enter your home and office through A/C units, heaters, windows, doors, pets and even clothing.
The more facts you know about mold, the better off you will be in choosing the best restoration company for you. If you would like more information on mold growing in your living space, please do not hesitate to call the experts at 909-399-9057 or visit us at https://www.SERVPROclaremontmontclair.com/ today.